Welcome to the Early Literacy Messages in Action Blog Tour! The round up will be hosted on Jbrary this Friday, June 19th; for more Early Literacy fun-times follow the hashtag #EarlyLitInAction on Twitter!
I was hired as an Early Literacy Specialist when the Anne Arundel County Public Library in Maryland first expanded its Early Literacy Programming, so 'Early Literacy enhanced' is the only way I've done storytime. Primarily I present our storytime for babies, with toddlers and preschool once or twice a month. I've been presenting weekly storytimes for about a year and a half now and I've still got a lot to learn! I'm no expert, but spending nearly everyday in a library and having access to the resources that I do allows me to speak with authority when it comes to helping kids develop a life-long love of learning.
The question of the day is "How?" How do we include Early Literacy messages in storytime?
Obviously, the answer is going to be different for everyone. The conclusion I've come to is "Keep it simple."
My first storytime plans were absolutely peppered with Early Literacy nuggets. As though I were trying to justify every single rhyme and song I had chosen. It was extreme. It was bad. I never actually presented any of these to the public (thank God.)
An accurate depiction of my first foray into Early Literacy.
Later, my library brought Saroj Ghoting to present a training and for a while I used her format for storytimes, an introductory message--she calls them asides--an example of how a storytime activity builds one of the skills kids need before entering kindergarten and learning how to read, and an "empower aside" or an idea for an activity parents can take home with them.
Did you know, the more you talk to your children the larger their vocabularies will be?
To an extent, I still use that basic method, trying to mention Early Literacy three times in the program. Thought the example asides given on her website, Earlylit.net, suggest huge chunks of information to give to parents. With the right training, in the right environment, I'm sure that's an invaluable resource for parents. And obviously it's important for me to understand why I'm up there doing what I do, but if I tried to talk that long in a room full of babies chaos would surely follow.
Where I am now I realize it's easiest for me to deliver messages as transitions. As I hand out sheets with the rhymes and songs I plan to use I usually say something to the effect of:
All our storytimes are Early Literacy enhanced, which basically means we try to include extra information for parents about how the songs and activities we share with kids help them prepare to learn to read.
Since I say it just about every week, it's something that I've got my tongue around. It's basically just my alert for the parents "Early Literacy message ahead! Prepare yourselves!"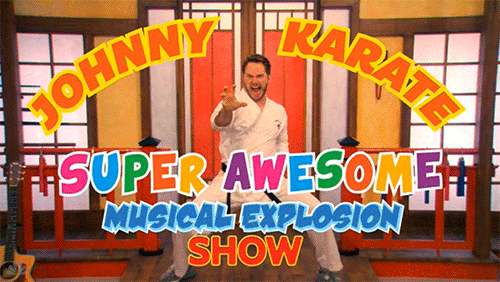 I try to serve the meat and potatoes message while I'm handing out or collecting shakers, scarves, or putting away my flannel board pieces. Here's the message I gave while using the "
Little worm, where are you?
" flannel board guessing game I stole, er...sorry, borrowed from Mel's Desk!
Modelling conversations skills, asking questions and leaving time for an answer, is one way in which you can help kids develop oral language & communications skills.
Below are some other messages I've given in the past few weeks!
In my Chicka Chicka Boom Boom storytime I gave this reminder with the flannel activity I borrowed from
Mel's Desk
.
Learning to tell one letter from another involves being able to see the differences in letter shapes. Talking to babies about different shapes and how things are alike and different helps prepare them to learn the alphabet.
In my
All About Songs
program I gave this reminder with with Jim Gill's 'Toe, Leg, Knee' and the rhyme 'These Little Fingers.'
Singing the same songs over and over and encouraging babies to babble back repeated sounds and encourages the development of Oral Language.
With the rhyme 'These Little Fingers' I'll often say, "
Playing games that point out different parts of the body can be a fun way to introduce new vocabulary."
I still use some of the more 'jargony' terms from the first version of Every Child Ready to Read: Narrative Skills and/or Oral Language, Letter Knowledge, Print Awareness, Phonological Awareness, Print Motivation, Vocabulary, and where the heck Background Knowledge fits in, don't ask me.
At first it's completely awkward trying to include that language in storytime, but I do think there is value in parents hearing those terms before their children get to school. At the moment I am working on increasing my emphasis on the five practices, Singing, Talking, Reading, Writing, and Playing, which build those skills because I think it helps parents to understand that all the stuff they're already doing at home and in storytime is going to make all the difference when it comes time for their children to learn to read.
My final message probably doesn't even really count. It's usually "Check out these books, enjoy them at home!" I also put a message on the handouts with the day's rhymes and songs, though those rarely make it home, I figure it's there if they want it.
An accurate depiction of my post-storytime state.
So where do I go for ideas for messages most often? Well...mostly I look to some of the library bloggers who are taking part in this roundup. The ones I refer to most frequently are Mel's Desk for her
baby storytimes
, as well as
Storytime Katie
, and let's not forget
Jbrary
which always seems to offer something fresh (Hi, ladies, thanks for being an invaluable resource!) I also refer back to the
storytime resources
at EarlyLit.net. And of course feel free to check out my baby storytime and early literacy storytime posts; I'd love to hear your thoughts and ideas!
And of course you're going to feel awkward at first. It takes time to figure out how to get things into your own words, sometimes you forget to deliver your message entirely. That's okay, stick with it, it's worth it, and practice makes perfect.